Mandy's Background:

Mandy has been studying all forms of Dog Training since 1995. She earned a Bachelor of Arts in Communication Studies from California State University Stanislaus to assist her in working with her clients (the owners), since working with dogs came naturally to her. She is now a certified dog trainer, living with her Husband and two furry children, along with the foster dogs who travel through. Mandy has been a Certified Canine Education Instructor (CEI) since September, 2008. She has been teaching puppy, beginner, advanced, and clicker training group classes, as well as conducting in-home private dog training sessions. When she was young Mandy won many dog training competitions, and now gets to do what she loves best as a living, not a bad situation to be in!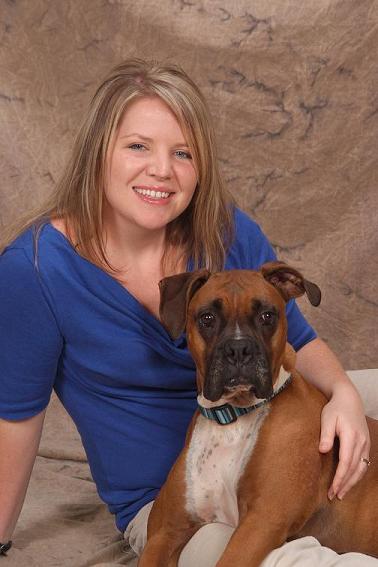 Along with continued education by attending seminars and conferences by some of the most respected animal trainers in the world, as well as reading all she can get her hands on about the most recent advances in training, Mandy is committed to learning about dog behavior through personal experience as often as possible. She believes that in order to fully understand what her clients are going through, it is best if she has personal experience dealing with and working through as many behavioral problems as possible. This, and the fact that she is helping dogs who might not otherwise find a home, is why she volunteers to foster dogs from the local animal shelter. She actually asks for the ones who have behavioral issues- aggression, overly shy, sprays on anything in sight...you get the idea. Mandy takes them in, assesses their training needs, and then trains them in her home until they are ready to go to their forever homes. Mandy considers it a blessing to be able to learn so much -first hand- by having these dogs in her home.
What clients are saying about working with Mandy...

From Jillian in Cave Junction:
Mandy,
Jake and I are so grateful for the day we first began taking lessons from you, and we're still coming back to you because your methods have worked so much better than any others we've been involved with.
Nobody has understood this reactive, scared little dog the way you do. He and I still have work to do, but he's a much happier and more balanced dog than he was, and I'm a more educated owner!

Your gentle, positive approach is absolutely the best, and you're such a pleasure to learn with. When I see your own dogs, I know that what you teach is the only way.

We will be forever grateful,
Jilli and Jake
From Marilyn in Rogue River:

I would like to recommend Mandy Miller, with Positive First Dog Training. My daughter and I contacted Mandy when we had reached the end of ideas on what to do with our present situation. We have (4) dogs, all rescued. The three original dogs weren't accepting the new 2nd pit dog named "Bella". We had had to deal with some pretty severe dog fights.

Mandy came here and has transformed our home into a much more relaxed environment. Every time she leaves us we learn more methods and ways to help us deal with our dogs.. She also taught me to be able to say the word NO, and believe me, it was one of the hardest things to learn!

I wouldn't hesitate to recommend Mandy, she has patience, knowledge, and most importantly of all, a love of animals and what is best for them. She will also train the owners, which was needed in our case.

Marilyn Grover, Jenny (Border Collie/Lab mix), Joey (German Shepherd/Lab mix), Molly (Pit mix), and Bella (Pit mix).

From Sarah in Jacksonville:
Positive First was exactly what we needed for an anxious fearful rescue dog. Her confidence steadily grew with the training and we got the tools to build on that. Plus it was fun!
Sarah, Carl and Mica
From Jill in Medford

Hi Mandy,
I just wanted to thank you for all your help with Daisy. In the few short days since your visit, she has relaxed immensely! Your tips for not looking at her and approaching her from the side has worked wonders. She can still be a bit skittish, but she is now laying on the blanket with Benson in the living room instead of hiding in the back bedroom all the time and she even goes to Scott for some petting and massage now. Amazing!
We will continue to work with her on the leash and we are grateful that she seems much happier than she has in the past and that was our goal when we took her out of the situation she was in.
Thank you once again!
Scott and Jill
From Susan in Rogue River:

Dear Mandy (& Riley)
I'm writing to thank you more than I can say for turning us in the right direction. It was a stroke of luck of the very best kind that we were referred to you. My guy is in agility now, in fact, he's doing wonderfully, and since I still follow your teaching, he's coming along more every day. Sure it's work, but when you have a person like you who is kind yet firm, understanding and competent; someone who can teach the human how to teach their dog, that's what it's all about. Your combination of warmth, strength,common sense and knowledge was a blessing to us. I was at a loss but now..... He's going into level 3 of agility and I can see his confidence growing daily as you said it would. Who would have thought the change in that little pup would be what it is today.
I don't know how to thank you but to wish you all the wonderful things you deserve. And to dear sweet Riley, I hope you will give him a special pat and ear scratch for me. He was so patient with my boy in showing him the way to behave. Riley is an amazing dog belonging to an amazing trainer so no surprise there.
The very best to you and your family. Thank you again for the help you have given our furry family.
Susan Kennedy & JitterBug